Meet the Researchers and Their Interns
"If I hit the lottery tomorrow, I wouldn't change a thing other than buy my own boat," so says Caryn Self Sullivan. We will be working with Caryn and Katie LaCommare while in Belize this September. They are both Ph.D. candidates and very interesting women!
Caryn Self Sullivan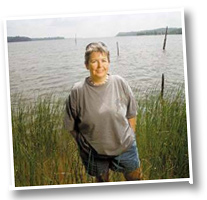 I am 49 years old and currently a graduate student and National Science Fellow (NSF), pursuing her Ph.D. in Wildlife & Fisheries Sciences at Texas A&M University. My B.S. was in Marine Science, with minors in Mathematics and Biology from Coastal Carolina University in 1997. You can read all about me by following this link to an article written about me last year.
Katherine S. LaCommare (Katie)
I am 34 years old, a new mom, and a Ph.D. student in the
Environmental Biology Program at the University of Massachusetts, Boston. I have my M.S. degree in Forestry from Purdue University, West Lafayette, Indiana. My undergraduate degree was in Anthropology/Zoology from the University of Michigan, Ann Arbor, Michigan.
While in the field, Caryn and I are responsible for training volunteers, coordinating daily logistics for research and living, and coordinating data collection, reduction and analysis . . . or, just about everything!
Hannah Goorsky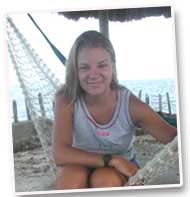 I am working as an intern for Caryn and Katie's Manatees in Belize research project. As the logistics intern, I am responsible for making sure our research camp is running smoothly. For example, some of my duties include: buying groceries for camp, planning and overseeing meals, organizing camp chores (grrr!-), and helping the volunteers with anything they might need! Also, a less specific, but more fun part of my job is to make the volunteers feel they are a part of something exciting. The more enthusiasm I show about the work being done, the more everyone else can see how much fun research can be as well!
I have a Biology degree from Texas A&M University and have always been very interested in Marine Biology—so this internship was perfect for me, as I had just graduated from college in May, and was unsure of which path I wanted to take once school had ended. Animals are one of the most fascinating things in the world to me, and if you think you might want to do something involving animals as well, get started NOW! Get a job at a pet store, volunteer at a zoo; ask your local vet loads of questions. It's time for me to get back to work, so take care!
Tamra Gilbertson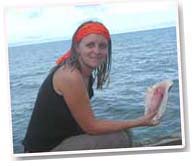 I love science and I love asking questions about nature and trying to figure out potential answers. I am a curious person and continually find myself asking why? I think it's fun. I have a degree from Humboldt State University, in northern California in Marine Biology and Zoology. I started working with manatees four years ago in Florida. I met Caryn and Katie in Belize three years ago while visiting the research site.

I am here to help Hannah with the cooking and to help on the boat. It's always helpful for all scientists to have other people around that have done similar work. I am traveling over land to South America. I started from California in July and backpacked for five weeks through Mexico (which I LOVED!). Now I will spend two weeks on the island before I continue south and spend the winter in Peru learning permiculture and sustainable agriculture as well as other aspects of environmentalism. I love nature and am committed to protecting it!