Thursday, September 5, 2002

Toilet Paper Trash

Today everyone but us went out on the boat to do more manatee scans. We stayed back at camp to write content for the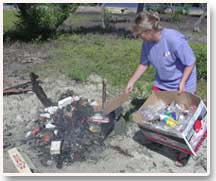 web site.

Once the boat left the dock we set up in the kitchen. It was nice to be alone for a day. We soon discovered that when everyone is away, the wharf crabs that live in the kitchen come out from their hiding places. Apparently they like to climb on your toes and nibble your cuticles. Caryn said that many times in the night, when she gets up to walk around, they climb on her toes. Working at the table this afternoon, Susan felt something nibble her big toe. Startled, she jerked her foot and flung a crab clear across the room. We guess Caryn was right, but we prefer the pedicures we get back home.

Of course we were given some chores to do while everyone was out—seemingly simple chores—like burn the trash and clean the bathrooms. At home one merely throws trash in the trashcan, recycles what is recyclable, and the garbage people come once a week and take it all away. Well here, there is no recycling, there are no garbage people, and toilet paper doesn't go in the toilets. Everything—toilet tissue, plastic containers, paper—except the cans, gets burned.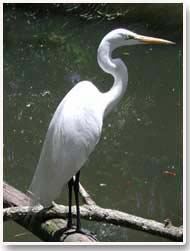 We dutifully took all the trash and a lighter out to the pit. We waited until the hottest part of the day to burn—our first mistake. Second, we were totally grossed out by the week's worth of toilet tissue and couldn't quite figure out how to get it out of the boxes without touching any. It is bad enough touching your own toilet paper when you accidentally miss the toilet at home, but this was the toilet paper from 10 people and 5 days! Next, we couldn't get the 10-cent lighter to burn anything except the tips of our thumbs. It would have been easier if we'd had a magnifying glass and used the sun to start the fire! Finally, after we got the paper contained in the fire area, a wind came up and started blowing it around. That was frightening!

At long last, we caught some paper on fire and soon had a hot blaze. The plastic containers exploded and burned bright colors. Amazingly, as the fire burned the wharf crabs (we mistakenly identified them as fiddler crabs last week) climbed in and out of the fire. Clearly, there is more to these wharf crabs than meets the eye. A lizard crawled out from under a nearby leaf and scurried to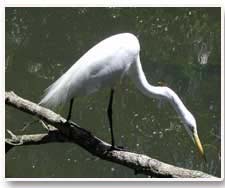 safety.

When Hannah came back, she told us that the way she burns the trash is to put it all in a large, old box and pour gasoline on it. It then burns quickly and without any trash blowing away. We could have used that little piece of information before we started!

After our dreadful trash burning experience we scrubbed our hands and feet with Pine Sol and took a swim. Sultan jumped in with us, whining the entire time he was in the water. A beautiful Great Egret (Casmerodius Albus) or a Gallin, as it is called locally, rested nearby. We watched as it stretched its long slender neck, getting ready to spear a fish it saw in the water. Egrets are as still as statues when they are fishing and they have a dead-on aim when it comes to spearing their prey. After our swim we made some fresh limejuice and continued working.

Dolphins



One of the tasks today for the team on the boat was to teach Jen and Steve how to collect data. Neither of them have snorkeled much before, so that was a new experience for them as well.

Traveling out to the reef the team saw a school of four dolphins. Gilroy stopped the boat so that the team could watch the dolphins. The dolphins swam right next to the boat.

The team did a scan at the reef but didn't see any manatees. They took environmental data at every single scan point. Yikes! This involves measuring turbidity—both depth and horizontal, water temperature from both the surface and the bottom, and salinity from both the surface and the bottom.

Everyone spent an hour or so snorkeling the reef. They spotted blue tang, barracudas, squirrel fish, hog fish, and multicolored damsels. Terin saw a baby Jew fish and in her words "they are big, ugly, prehistoric, scary looking fish." After the snorkel, the team traveled to various narrow bogues to continue surveying for manatees.

Dead Man's Float

At one point during the day, Kevin and Krisan were in the water and Terin thought she spotted a manatee nearby. Caryn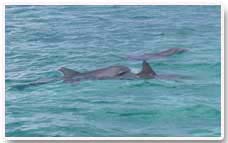 shouted, "Dead man's float!" to Kevin and Krisan. We are trained when we hear this to lay absolutely still face down on the surface of the water and just float until the manatee swims away, so as not to scare the manatee. Kevin and Krisan immediately assumed the position. Finally, after some time, Kevin raised his head to ask if they could come up. Caryn had forgotten about them.

Reconnaissance Survey

The team did a 30-minute reconnaissance survey at the end of G1 (an arm of Bogue G) in the afternoon. There are three channels that continue into the mangroves, which are all too narrow for the boat, so surveys can only be done by snorkeling up each channel. Caryn and Katie have often spotted manatees in these channels. The team broke into groups to survey the three 300-meter channels.

The channels are narrow and lined with mangroves. They are also shallow, from two to four feet deep, with muddy bottoms. The visibility can be very low as the water is easily clouded by stirred up mud. They said it was somewhat scary swimming slowly up the channel, knowing that this kind of area has crocodiles. They could see pulsing jellyfish on the bottom that sometimes were only a foot or so from their chests. They had to try to keep going while looking up for branches and looking down for manatees and jellyfish and trying to forget about the crocodiles.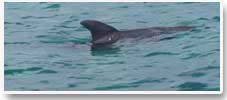 About half way up the channel that Kevin, Caryn, Steve, and Tami were surveying, they suddenly encountered a manatee. The juvenile manatee was relatively small—five to six feet and seemed to appear from nowhere.

The manatee passed Caryn as she was in the lead of this group and had her underwater camera with her. The manatee then turned in front of her as she was filming and swam beneath her, then under Kevin, Tami, and finally Steve. Steve however, never saw the manatee. In fact, Steve does not believe they exist since he didn't see any of the manatees all day.

Swimming With Jelly Fish

In the mangrove ecosystem lives a special kind of jellyfish called the Mangrove Jellyfish. These jellyfish lay upside down on the sea bottom with their tentacles floating up towards the surface. Zooxanthellae, or microscopic algae, live inside the tentacles. These algae also live inside coral polyps, giant clams, and other sea organisms. The jellyfish tentacles glow a blue-green but it is the algae that are the source of the color.

The jellyfish are relatively harmless except when they are mating and the females are releasing eggs. Divers must swim very slowly over them so as not to disturb them. Caryn is always reminding us to keep our fins up when we snorkel so as not to disturb the sea floor sediments. She said that this was the new place she was going to take people to teach them how to snorkel from now on. Everyone was so afraid of the jellyfish that they never put their fins down!
Gilroy Robinson

Gilroy was born in Belize City but grew up in a small village in the Belize District. When he was a boy, Belize was still a British colony. He remembers the British soldiers stationed here at the time.

He, his mother, and his brothers and sister lived in a small house without running water or electricity. They used kerosene lanterns and buckets to collect water from the nearby river. His family farmed vegetables, rice and corn for their own food and for selling at the local market. Gilroy attended the village primary school, and while he started secondary school, he never finished. He speaks English of course, but also Creole and Spanish.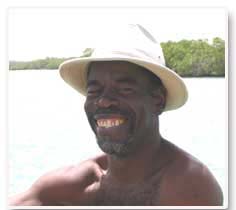 Gilroy is a smart man. He knows so much about the local flora and fauna that he is a great resource for Caryn and Katie. He was one of a few field assistants that they hired their first year here. Gilroy was so interested in learning about their research and conscientious about his work that they decided they only wanted to work with him. He really is the "do all" person around here. When manatees are sighted, Caryn and Katie rely on Gilroy to verify the sighting and the actual number of manatees. He has a third eye that the rest of us do not have! When we asked him why he likes working for Caryn and Katie, he said that as a fisherman, he never paid much attention to the manatees. They were just there. Now he has a greater understanding of them and wants to help protect them.

Aside from everything else Gilroy does as a field assistant, he also keeps an eagle eye out for us when we are out snorkeling. Nothing misses his watchful eye. He is always watching each one of us to see that we are doing okay. Often times he will give the, "Are you okay signal?" with his arm and it is always reassuring. We keep our eye on Gilroy while out in the water, as we know if danger is nearby, he will warn us.

In the past, Gilroy worked as a manual laborer, a tour guide, a dive master, and as a fisherman. Watching him swim in the water is like watching a fish. He is graceful and strong.

Always cheerful, we hear he makes a mean Creole bread. This involves a special Belizean dance called the Punta, which is done while kneading the dough. We are still waiting for this special treat. We found the recipe in the kitchen and included it so you can make this bread at home. You are on your own with the Punta dance. We don't have a clue how this is done.

Gilroy's Creole Bread – makes two loaves

7 cups of flour
2 tsp instant yeast
Gilroy's handful of salt (about 2 tsp)
5 rounded tsp sugar
3/8 cup shortening
3/4 can coconut milk 14oz.
1/4 can water
Dance the Punta while mixing all the ingredients together.
Kneed for approximately 3 Punta songs (keep your hips moving).
Roll out into a roll and place into a well-greased pan. Place bread in warm area to allow bread to rise for approximately 1 hour.
Cook in oven at low setting for 35-40 minutes.
Enjoy!
FYI: The boat team had four manatee sightings. Not bad for Jen and Steve's first day. However, it was such a busy day for the boat team that they forgot to take any photographs.