Taking a bunch of people out into the middle of the Amazon River basin is no easy task. It takes a lot of skilled people working behind the scenes to make sure everything runs smoothly and that everyone is comfortable and well fed. The crew not only made our trip comfortable they also shared with us their knowledge of the amazing place in which they live. We are very grateful to them.
---
ROGER GADEA (Captain)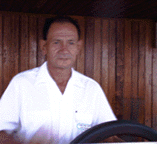 Captain Roger is the first in command of our vessel. He is responsible for all the people onboard and for making sure the crew does their jobs. The Peruvian Navy has many rules governing boats. The captain has to make sure he knows them and follows all of them. There are special navigation cards or permits needed to travel the rivers of Peru.
The Amazon River and its tributaries are very difficult to navigate because they are constantly changing, depending on the time of year and the level of the water. Maps and charts of the rivers are out of date before they are even printed, so nobody uses them. Captain Roger learned how to navigate these rivers from experience. He has spent many years on the rivers and knows them by heart. The captain -- or "Capi" as we call him -- wanted to make sure that we knew he never forgets that he is carrying important cargo; people.
Captain Roger began working on the river as the assistant to a boat cook and then became a waiter. He then went into the Peruvian Navy for two years and learned how to pilot boats. He also worked for a local oil company. During the oil boom in the 1970s, Captain Roger worked as a navigator for Petro Peru. He now works whenever local boats need a captain. Otherwise he lives in Iquitos with his wife and son. Captain Roger's other seven children are grown up and live with their own families.
---
FERNANDO AHUANARI (Engineer)
Fernando's job is to make sure that all the machinery on board the boat is running smoothly. He works on are the motors,

engines, generator and the other machines which run the boat. His job requires a lot of experience with machines, because if something breaks out on the river, there is no where to go for help.
When Fernando was 12 he went to live in a Catholic boarding school. The sisters had him work on boats so that he would have a job when he was older. He first learned how to fix machines by watching other men. At the age of 15 he moved to Iquitos. He has worked in the engine rooms of boats since then.
Fernando has six kids, three boys and three girls. He likes to play soccer and travel with the tourists. When he took us out in the small boats we learned that he has great eyes for spotting animals which hide in the bush. He knows a lot about birds and animals. He can identify animals in the dark just by the sound of the splash they make when entering the water or by their calls.
---
LIZARDO INACUARI (Navigator)

Lizardo is the navigator on the boat. Navigators decide which direction to move the boat. They make sure that the boat is going to the right place and that the boat doesn't hit anything or run aground.
Lizardo learned how to navigate while he was in the Peruvian Navy. He thinks big boats are easier to navigate because they have sophisticated equipment to assist in finding hazards on the river. However, on the Delfin, the crew navigates by sight. They read the currents and the color of the water. At night flashlights must be used to locate the bank of the river and check for any debris that may be floating near by.
Lizardo has five sons and lives in Iquitos. In his spare time he enjoys playing soccer.
---
ARTURO CORDOVA (Pilot)

Arturo is one of the two pilots on the boat. His job is to drive the boat and the small skiffs. He started working on boats as a waiter and spent all his free time helping and watching the boat pilots. When Arturo was younger he wanted to become an airplane pilot, but instead he learned how to pilot boats.
Arturo lives with his wife, three daughters and a son in Iquitos. When he is not piloting the boat he helps build houses and government buildings in Iquitos.
---
CELESTINO MACEDO (Pilot)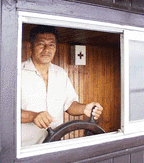 Celestino is the other pilot of the boat. His job is to drive the boat when Arturo is resting, as the boat often travels by night and day. He and Arturo take six-hour shifts piloting the boat. Like many of the other crew members, Celestino learned how to motor boats in the Peruvian Navy.
In Iquitos, Cellestino lives with his two sons, daughter and wife. He grew up in the village of Caballococha. When he is not on the boat, he likes to build furniture. Celestino is happy to have a job as the pilot.
---
HORACIO ASCARATE (Chef)

Horatio oversees the kitchen and make sure everyone is fed. He makes three meals a day for twenty people in a kitchen the size of a small closet. He decides on the menu, orders the food and makes sure it is ready on time.
Horatio learned to cook from his mother, His uncle helped him to get his job as a cook. When he is not cooking, Horatio helps the rest of the crew with painting and carpentry work on the boat.
Horatio was born in Piura, which is north of Lima, but now lives with his daughter and wife in Iquitos. When he has free time he likes to draw and paint. Horatio is a good friend and kind person.
Everyone also agrees that he is a very good chef.
---
MELANIO MAYNAS (Cook)
Melanio is a cook on the boat. His job is to assist the chef and make
sure the food tastes good and is prepared on time. He also washes the dishes.
The chef and cook have to make sure that they cook the food special ways so that the passengers don't get sick. Tourists aren't use to the water, so the cook has to be very careful how he prepare fresh fruits and vegetables. Fruits and vegetables which can't be peeled must be cooked or they must be washed carefully with purified or specially treated water.
Melanio has worked on boats for the same company for fifteen years. He has also worked as a cook in a jungle lodge.
Melanio is from Pucallpa and now lives in Iquitos with his wife and five children. When he is not working as the cook on the boat, he likes to play soccer and make a lot of goals.
---
LIDER NOLORBE FATAMA (Bartender)

Lider is the bartender on our trip. He has been a bartender on boats for nine years. His job is to make sure there are enough bottled sodas and other drinks in the cooler for all the passengers and crew. He must keep track of how many beverages each passenger drinks, and give each of them their bar bill at the end of the trip. He has to be good at math and very organized.
Like most of the crew members, Lider also preforms other duties on the boat. He assists the passengers by straightening their rooms and keeping the boat clean. Lider started out working as assistant bartender in a jungle lodge and then moved to the boats.
Lider has learned a lot about the world by working on the boats. He takes every opportunity to talk to and learn from the passengers and his fellow crew members. The passengers give him a chance to practice his English, which he feels is very important to learn. During our week on the boat, he spent a lot of his free time learning how to use computers.
Lider grew up in the town Francisco Horellana with his four brothers and parents. He moved to Iquitos when he was twelve.
---
NEIL GUERRA (Waiter)

Neil is the waiter on the boat. He makes sure all the food is served out on time and that the tables are set. When the passengers come to meals, Neil explains in English what is in each dish and how it was prepared. He also makes sure that the passengers have enough to eat, and that no one misses a meal.
Neil works on the boat to earn money for his living expenses when he attends college. Like Lieder, working with passengers gives him an opportunity to improve his English skills.
Neil was born and raised in a town called Yanamono, where his parents still live. When he was a boy, Neil worked with his parents on a sugar can plantation. After completing elementary school at age 12, he moved to Iquitos with his brother and sister. In Iquitos he completed high school and some advanced studies in computers. He will start computer science at the university next year.